A propos de l'auteur Ludes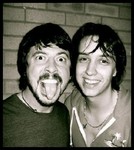 Email : Contactez-moi

Quelques mots sur moi
J'allais faire une vieille blague/jeu de mot, m'ai je m'abstiens. En gros j'ai un humour de merde et j'assume. Sauf là.
Le reste c'est du copié collé de Facebook parce qu'en plus j'suis une feignasse.
Mes centres d'intérêt
The usual for a student: partying a lot and studying a little. And everything else.
Mes films préférés
I love a bit of everything from Star Wars to Mean Girl, The Fearless Vampire Killers to Moulin Rouge.
Mes musiques préférées
Hip Hop and Indie, spiced with a little bit of electro, dance, drum'n'bass, jungle, rock and folk. Jazz and classical music from time to time, it's always good to relax. Not really into R'n'B, house, french music, but there's always some exceptions!
Mes livres préférés
The Chronicles of Ambers (Zelazni) are definitely the best books ever. And of course Terry Pratchett and his Discworld Novels. Basically i'm more a Sci-Fi and Fantasy book reader.